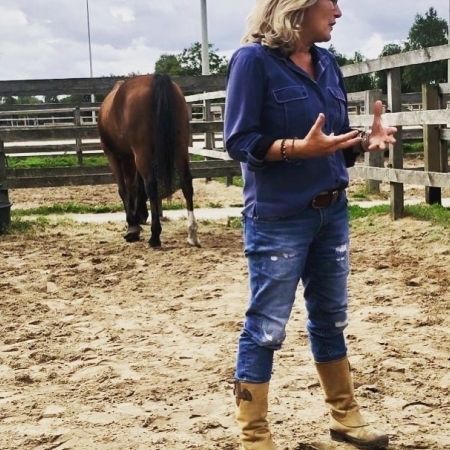 Do you want to work as a horse coach?
Certified program to become a horse coach
A complete practical training, in which people are also treated
Full support for all your questions and challenges
Possibility to take out insurance with third parties to teach (certified training).
Possibility of partial payments


The horse coach training of Ingeborg Kiès helps to realize your dreams and ambitions. We proudly present the program to develop as an individual (leadership), with teams, in coaching & guidance and systemic work. Ingeborg Kiès works as an independent trainer, coach and psychotherapist. She specializes in team development and individual coaching. During workshops and personal or team coaching, she deals with all common issues in the field of (personal) leadership. These courses are also available via STAP-Budget.


Number of days: 8 days in total, spread over 4 x 2 days (weekdays). Please note, there is also a 4-day variant, but it is not eligible for STAP. Only the complete training. Please contact Ingeborg for more information and to discuss the possibilities.
Dates April 2023: 08 & 09 March, 12 & 13 April, 10 & 11 May, 07 & 08 June 2023
Dates September 2023: September 6 & 7, October 4 & 5, November 1 & 2, November 29 & 30
Times: From 09:30 to 17:00
Number of participants: Minimum 6 and maximum 10
Location: Kootwijkerbroek
Participation price Instructor training: € 248.75 per lesson day. This price includes training material, day package unlimited coffee / tea and drinks, luxury lunch, storage / paddock, examination, diploma, certificate. When registering, you also have 14 days to cancel free of charge in accordance with the guidelines of the CRKBO.
Insurance: Good news, when you register it is already possible to insure yourself for instruction as a Human & Horse student, if you wish. Until you have passed the exam, you can use this unique arrangement. For more information ask for the conditions.