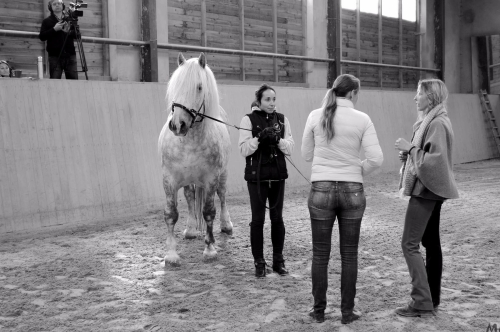 Do you want to work as a trainer or instructor?
Certified trainer and instructor training
Practical training, adapted to each horse and level (tailor-made)
Full support for all your questions and challenges
Possibility to take out insurance with third parties to teach (certified training)
Possibility of STAP budget
Possibility of partial payments

Number of days: 10 Modules in total, divided in 5 x 2 days (taught by Greetje Hakvoort & Ellen Fuld). You have the choice to start in April or September.
Dates September 2023: 04 & 05 September 2023, 02 & 03 October 2023, 06 & 07 November 2023, 04 & 05 December 2023, 08 & 09 January 2024
or
18 & 19 September 2023, 23 & 24 October 2023, 20 & 21 November 2023, 18 & 19 December 2023, 22 & 23 January2024
Times: From 09:15 to 16:15
Number of participants: Maximum 12
Location: Kootwijkerbroek
Price Instructor training: € 225.- per day for 10 practical days.

The Human & Horse home study is exclusive. If you own it, you do not have to purchase it again. The price includes: course folder, day package unlimited coffee/tea and drinks, luxury lunch, stabling/paddock for your own (care) pony or horse, examination, diploma, certificate. Use school pony if you cannot bring your own (care) horse; 15 euros per day.

STAP Budget: The training for trainer and instructor is eligible for the STAP budget. You will receive € 1000.- and apply for this yourself at the UWV. For more information and how to apply for STAP, see the STAP page.
Insurance: Good news, when you register it is already possible to insure yourself for instruction as a Human & Horse student, if you wish. Until you have passed the exam, you can use this unique arrangement. For more information ask for the conditions.

The practical training is the starting point for your ambition as a trainer and instructor.