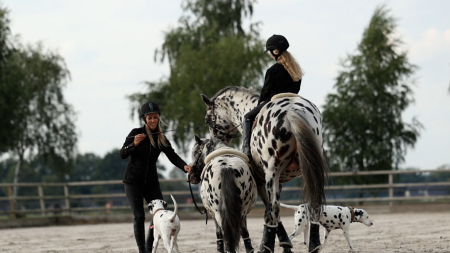 Practical training as a trainer and instructor (10 modules)

Training to become a qualified Human & Horse Trainer and instructor
With your own horse or one of the school horses
In some countries our trainings are recognized by insurance companies as a basis for insurance
Also for horse lovers who do not want to become an instructor
Recognized training by Dutch CRKBO and access to STAP budget*
The Human & Horse Training course consists of 10 modules spread over six months. The practical training is built up with the modules groundwork, lunging, work in hand, riding and teaching* (*not mandatory, but again mandatory for the STAP budget). After completing the practical training, it gives the opportunity to work as an insured instructor.
The training is given by Head Teachers Greetje Hakvoort & Ellen Fuld and our Assistant Teachers Conny Versendaal & Jet Van Der Greft (Team Human & Horse Academy).

This training is also available via STAP-Budget. * Stap-budget is accessible to people from the Netherlands who want to improve their professional skills.