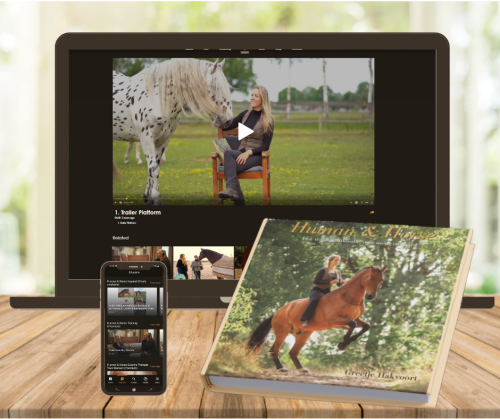 A deeper connection with your horse with the Human & Horse home study
A deeper connection with your horse starts with love and trust. That doesn't just happen, but you build it up together. At the pace and learning level that suits you and your horse. With our Human & Horse home study we give you everything you need.


Complete package of book and access to training videos
More than 300 large format pages, richly illustrated
Groundwork, lunging, working in hand, riding, liberty work and neckrope riding
Access to 170 training videos via browser and app (Apple & Android) This home study is mandatory before you apply for the practical training
Also available as a monthly subscription of € 26.33 for 15 months

The home study is a complete learning program consisting of a textbook (2.5 kg hardcopy), more than 170 educational videos on the platform and can also be followed via the Human & Horse app. The study book is available in 3 languages (Dutch, English and German) and will be shipped to you. The Human & Horse Academy app is available in the AppStore and GooglePlay.

The home study is the starting point for loving horse training. It makes it accessible to you. For every horse and every level.